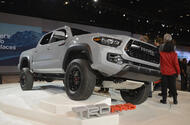 Toyota Tacoma TRD Pro
The Chicago motor show, which opened today, doesn't play host to as many high-profile global debuts as other US events, but it is significant nonetheless
People power rules at the Chicago motor show. Although few manufacturers use the event to unveil brand new models, Chicago is the largest of the US shows in terms of public footfall.
All those potential car buyers who brave the sub-zero temperatures to visit the event at McCormick Place, a convention centre not far from the shore of Lake Michigan, are hugely valuable for a domestic car industry looking for a welcome sales boost during the cold winter months.
The power of the car buying public dictated the trends themes of this year's show: the rush among manufacturers to develop more SUVs and crossovers as these market segments explode; the ongoing development of frugal hybrid vehicles to meet the needs of both customers and law makers but, conversely, a continuance of the USA's love affair with big-engined trucks and pick-ups, encouraged by low fuel prices.
The Chicago show kicked off with an address by Mark LaNeve, Ford's boss of US marketing, sales and service, who followed up on the Blue Oval's recent announcement that it would shuffle its model line-up and put a greater emphasis on SUVs and premium and performance models.
LaNeve revealed that Ford is planning to add four new SUV nameplates to its global model range, all in segments in which the company doesn't currently compete. He said the decision was influenced by huge interest in SUVs from both older and younger car buyers.
Next up, Kia took centre stage to kick-start its eco-car revolution with the all-new Niro crossover and two versions of the Optima hybrid, one a parallel petrol-electric powertrain and the other a plug-in.
Kia's US chief operating officer Michael Sprague stressed that this was only the beginning for the Korean manufacturer's push towards further electrification of its model line-up, and we can expect some more bespoke models
Next up, RAM, the truck brand of Fiat Chrysler Automobiles, which unveiled a new version of its range-topping Power Wagon 4×4. It's aptly named, with a 6.4-litre HEMI V8 packing 404bhp and 429lb ft under the bonnet. The truck takes styling cues from the even more impressively named Macho Power Wagon from the late 1970s.
Not to be outdone in the vast vehicle stakes, Nissan rolled out the Armada, a full-size SUV which is powered by a 5.6-litre V8 and can accommodate eight people, and the Titan, a pick-up equipped with the same powerplant.
Hyundai's focus was on the refreshed Santa Fe seven-seat and Santa Fe Sport five-seat. Infiniti revealed the full US line-up of engines for its Q50 sports saloon, originally unveiled at last month's Detroit motor show. On the far side of the pond, the car will be offered with 395bhp and 296bhp versions of a 3.0-litre V6 twin-turbocharged engine in addition to a 2.0-litre, turbocharged four-pot. Europe will trade the less-powered V6 variant for a 2.2-litre turbo diesel.
Next up was Toyota, which unleashed the Tacoma TRD Pro truck, designed with off-roading in mind and described by Toyota USA group vice president and general manager Bill Fay as "a beast".
Another Toyota-related brand, Scion, had a presence at the show, even though the parent company has announced that that company will cease operations later this year. On the stand was a Scion-badged version of the Toyota CH-R concept – somewhat ironic, given that plans to put the car into production as a Toyota were confirmed on the same day. 
Not to be outdone, Mercedes-Benz removed a sizeable dust cover from the outrageous Sprinter Extreme Concept. More than six metres long and 2413mm high, it is based on Merc's Sprinter 3500 Cab Chassis but has been given a thorough makeover by long-time Mercedes-Benz customiser RENNtech. It is equipped with a tipping load bay and can carry almost three tonnes. Power comes from a four-cylinder Bluetech diesel engine combined with a seven-speed automatic transmission.
Elsewhere, Jeep celebrated its 75th anniversary with a vast stand and a full line-up of models sporting bespoke paint schemes and design details. The Fiat 124 Spider was present, along with the Alfa Romeo 4C Spyder and keenly awaited new Giulia.
Chevrolet brought the day to a close by unveiling the latest versions of the Camaro V6 and V8 equipped with the 1LE performance package, a host of upgrades designed for track use such as more aggressive suspension tuning, uprated brakes and tyres and, on V8 models, an electronic limited slip differential and Recaro seats.
Volvo showed off its recently launched S90 luxury saloon, while its US chief executive Lex Kerssemakers delivered a speech that highlighted some of the global challenges facing the car industry, specifically reducing road accident fatalities and alleviating traffic congestion in cities.