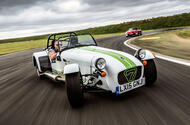 Mazda's MX-5 is the new kid on the block here – can it hold its own against the giants of Toyota and Caterham?
Everyone agreed this year that when it came to the rear-drive cars, there was an elephant in the pit lane. However, no one could quite put a discriminatory finger on which contender they preferred to recognise as the bona fide elephant.
Potential Nellie number one was clearly the Mazda MX-5, new and red and hot from a launch campaign that rivalled a US presidential run for soundbites and length.
Early word on the candidate, though – here in its more powerful 158bhp 2.0-litre format – was remarkably good. So good, in fact, that some argued it was the magnitude of the Toyota GT86's all-to-lose five-star reputation that made it the pachyderm of the trio, especially as the four-seat coupé qualified this year only by the skin of an entry-level trim change that caused it to pitch up on unreasonably small 16in wheels.
Additionally, a few testers, almost dewy-eyed with naivety at the way these things work, suggested it was the Caterham Seven 270R – with its titular power-to-weight ratio being so far in excess of those of its rivals – that presented a pickle of heffalumpian proportions.
Having just spent a weekend being slightly underwhelmed by the second least powerful Seven you can buy, I wasn't convinced. Mechanically, the model is a carry-over of the much-loved Supersport I ran as a long-term test car but it felt to me like its curiously lighter steering was indicative of a bit less camber at the front wheels (and so a little less nose-end purchase) and, with a passenger aboard, the de Dion rear axle rode a bit more meanly than I remembered.
Typically, though, after a scant 10 minutes of action on Bedford's diminutive East Circuit, I couldn't recall any misgivings. The 270R remains a phenomenal track tool. If there is a smidgen of extra understeer, it merely permits additional confidence with the throttle and, in a Seven, what starts with your foot ends at your hands a microsecond later.
On 185-section 13in wheels (the ones you want) the Seven attains slip angle very quickly, but the sheer speed of the rack and pinion makes those quintessential 45deg corrections intuitively instantaneous, non-threatening and very near the summit of unmitigated driver involvement.
The vitality of a Caterham tends to make everything else feel like molasses, and here the endless fizz of its 135bhp 1.6-litre Sigma engine only exacerbated the lack of froth from the Toyota's 197bhp 2.0-litre boxer unit. Even without the contrast, it's easy to imagine how someone might fail to see what all the fuss is about when confronted with the GT86's light steering, amenable springs, hollow drone and eco-grade rubber.
But surrounded by hairpins and dry, unpoliced asphalt, you quickly appreciate Toyota's sublime reasoning. The steering is light because it makes it easier to wind armfuls of lock on and off, the springs are amenable (up to a well-defined point) to promote weight transfer and the tyres are thin and only modestly sticky to ensure they become frequently unstuck.
It is possible to take curmudgeonly issue with the GT86's occasionally brazen lack of rear-end traction – but near impossible to do so at Bedford. Here, on the same ground where it won Handling Day proper, the extent of its sideways antics is extraordinary; not just in terms of the car's capabilities, but also in the lack of skill needed to unlock them.
A piffling bung and you're on your way and everything from then on – the throttle response, diff, innate sense of beyond-limit balance, steering – encourages you progressively onto the lock stops, and calmly back again.
It is zero-to-hero stuff, and the resulting grin factor is the MX-5's most prominent foe at Bedford. The new soft-top is several things straight away: tricky to get comfortable in, surprisingly quick and even more liberal with its body control than the Toyota.
Size and weight are the prime reasons for two of the three. The Mazda's dinky proportions account for the exhaust's packaging that leaves a bulge under the driver's left leg and no reach adjustment on the steering rack, while a superfly sub-1100kg kerb weight gives the roadster's modest 148lb ft far less to do than the GT86's 151lb ft.
The old-fashioned bob of the MX-5's chassis is noticeable from the driver's seat but it comes at little cost to the car's agility. Its small size, tiny overhangs, quickish steering and absence of extraneous bulk mean that a change of direction occurs swiftly. Compared with the GT86, it doesn't want for adhesion, either.
Let the car settle on its dampers and it finds a seam of grip not just broad enough to drive very briskly on, but also sufficiently communicative about its limits for you to lean enthusiastically into it.
The secret, most obviously, is better steering feel, the MX-5's rack weighting up a touch more quickly and consistently than its rival. But it's also a facet of the chassis.
The permissive suspension telegraphs shifting weight even more sweetly than its rival, prompting a heightened sensation of speed and making each corner a talkative endeavour that uses the seatbacks and your inner ear to leave you in no doubt as to when the rear wheels intend to glide wide of the apex.
As a result, and not least because of the empowering effect of its cleaner-revving, less encumbered engine and bracing abundance of fresh air, the Mazda edges it on the road, being endlessly accessible and fun up to its limit in a way that the GT86 is not, as well as in a way that feels like it ought to be appreciated by everyone, not just those of a tyre-shredding bent.
Back on the track, it takes the rest of the day and all of the next to thrash out this group's podium places. First to go, shamefully, and in apparent reverse order of outright ability, must be the 270R. It was nakedly brilliant at Bedford, yes. But if we concede that the £30k budget is buying a car for all seasons, a Caterham isn't ever going to be it.
As always in such company, the Seven provided a better benchmark than it did actual competitor – by which I mean that after half a century on sale, it remains an archetype of the affordable front-engined, rear-drive sports car, and its handling prowess rightly aspired to by the engineers of both its rivals.
Toyota's singular effort has had us spellbound for the past three years. The GT86 proved, in the best way possible, that a major, mainstream manufacturer still understood where we were coming from and what we wanted. In response, it made its coupé light, not powerful, made it adjustable, not inert, and threw in practicality and economy for good measure.
It deserved to become the world's best-selling sports car – but it isn't and never will be.
That's the MX-5's job, and Mazda has made doubly sure of it by having it do almost everything the GT86 does, including going sideways on request on track. But rather than making it the car's reason for being – as it sometimes seems to be with the Toyota – the diff-enabled smoky stuff appears at the tail end of a dynamic package that already manages to be punchily quick, cheerily involving and very easy indeed to adore.
The fact that you can also peel the roof off, buy a 2.0-litre one for nearly £10k less than our budget and pay less than ever to run it help make the MX-5 the stand-out affordable rear-driver of 2015. By half a trunk.
Read the previous shoot-out – Honda Civic Type R versus Ford Focus ST-2
Read more – how much fun can be had for £30,000?
Caterham 270R
Price £26,990; Engine 4 cyls, 1596cc, petrol; Power 135bhp at 6800rpm; Torque 122b ft at 4100rpm; Gearbox 6-speed manual; Kerbweight 540kg; 0-62mph 5.0 seconds; Top speed 122mph; Economy NA; CO2/tax band NA
Mazda MX-5 2.0 160 Sport Nav
Price £23,296; Engine 4 cyls, 1998cc, petrol; Power 158bhp at 6000rpm; Torque 148b ft at 4600rpm; Gearbox 6-speed manual; Kerbweight 1122kg (including driver); 0-62mph 7.3 seconds; Top speed 133mph; Economy 40.9mpg; CO2/tax band 161g/km/27%
Toyota GT86 Primo
Price £22,700; Engine 4 cyls, 1998cc, petrol; Power 197bhp at 7000rpm; Torque 151b ft at 6400rpm; Gearbox 6-speed manual; Kerb weight 1275kg; 0-62mph 7.6 seconds; Top speed 140mph; Economy 36.2mpg; CO2/tax band 180g/km/29%
Get the latest car news, reviews and galleries from Autocar direct to your inbox every week. Enter your email address below: