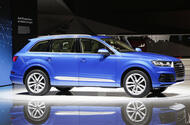 Audi's new Q7 will go on sale in the UK this summer
Audi Q7 gets a lower-powered diesel engine option that brings the starting price down to £47,755; it will be followed by a plug-in hybrid
The starting price for the Audi Q7 SUV has come down to £47,755 with the release of a new, lower-powered diesel engine.
The new Q7, which offers seven seats as standard in the UK, is now available with a choice of two 3.0-litre V6 diesels. The new addition to the range comes with 215bhp and 369lb ft of torque, while promising CO2 emissions as low as 148g/km and combined fuel economy of 49.6mpg. It is capable of 0-62mph in a claimed 7.3sec and has a 134mph top speed.
The higher-powered 3.0 TDI provides 268bhp and 442lb ft of torque and has a claimed 0-62mph time of 6.5sec and a 145mph top speed, along with combined fuel economy of 47.9mpg and CO2 emissions of 153g/km.
Both versions of the car are available to order, with the new engine due for first deliveries in October.
The German car maker says the big seven-seat SUV has shed a significant 240kg over its equivalent predecessor, while the five-seat version has dropped 325kg.
The enormous drop in kerb weight is credited to a detailed weight reduction program that has cut 100kg from the Q7's suspension and 71kg from the body – some 24kg of which has been achieved through the adoption of aluminium doors alone.
Further reductions in weight have also been made possible by a new electric architecture and refinements to the floorplan, which now uses a greater amount of hot-formed high-strength steel and aluminium.    
Ingolstadt's flagship SUV features an evolutionary appearance, with a bold new single-frame grille similar in design to that recently brought to the facelifted Q3, more heavily defined wheel arches, tauter surfacing treatment, a more prominent shoulder and numerous crease lines within the flanks to help reduce its visual bulk.
A series of newly adopted aerodynamic refinements, including the extensive use of underbody cladding and, on selected models, elements within the grille that automatically close to reduce wind turbulence when engine bay cooling is not required, has netted the new Q7 a drag coefficient of 0.32.  
At 5050mm in length, 1970mm in width and 1740mm in height, the new Audi is 370mm shorter and 15mm narrower than its predecessor when underpinned by its standard steel-sprung suspension. The wheelbase has also been reduced, but by only 10mm at 2990mm.
Despite the reduction in external dimensions, Audi says the interior of the new Q7 offers greater accommodation than the model it replaces. While continuing to offer seating for up to seven occupants, the interior has been significantly altered.
Improved packaging is claimed to have liberated an added 21mm between the first and second rows of seats, together with a respective 41mm and 23mm of head room. The third row of seats also offer 24mm more head room and 20mm more shoulder room than before. The new Q7 offers 770 litres of storage space with seven passengers on board, and up to 1955 litres with the rear benchs unused.
As part of Audi's efforts to provide the Q7 with a more upmarket positioning, the new models adopts a highly contemporary styled dashboard with minimal switchgear, free-standing 8.3-inch infotainment monitor, digital instrument binnacle similar to that unveiled on the latest TT and a prominent centre console with a newly designed MMI controller and gear selector.
Both engines come with a standard eight-speed automatic gearbox and Audi's torque-sensing quattro four-wheel-drive system – the latter providing a nominal 40/60 apportioning of drive front to rear.
The maximum towing capacity for both models is put at 3500kg.
For selected markets, including China and North America, Audi has also developed a 2.0 TFSI model that uses a longitudinally mounted version of the firm's widely used turbocharged 2.0-litre petrol engine with 249bhp and 273lb ft of torque.
The second-generation Q7 is based on a heavily modified version of Audi's MLB platform, which uses a combination of hot-formed high-strength steel and aluminium as part of its weight reduction program.
The same platform is also planned to underpin successors to the second-generation Volkswagen Touareg, second-generation Porsche Cayenne, upcoming Bentley SUV and, possibly, a production version of the Lamborghini Urus.
The new Audi rides on a standard steel suspension, although buyers can specify optional air suspension. Also standard are 18in wheels with 235/55 tyres.
In a move aimed at providing the Q7 with added agility, the new model also gains an optional rear-wheel-steer function. It countersteers the rear wheels at lower speeds for greater manoeuvrability and a reduced turning circle in city driving.
At higher speeds, the rear wheels turn parallel to those at the front at an angle of up to five degrees for added sharpness and handling prowess.
Also new to the Q7 line-up is the e-tron quattro, which was revealed at the Geneva motor show in March and will go on sale towards the end of this year. The new plug-in diesel-electric seven-seat SUV is claimed to deliver a total range of up to 876 miles, thanks to an official fuel economy figure of 166.2mpg.
The Q7 e-tron quattro is the first in a range of new Audi models to receive a newly developed plug-in diesel-electric hybrid system that insiders say is set to play a crucial role in the company's efforts to meet the stringent 95g/km limit for CO2 emissions set to come into force in 2020.
Developed wholly in-house, the modular system is based around the German car maker's familiar turbocharged 3.0-litre V6 common-rail diesel, delivering 254bhp and 442lb ft of torque. It is mated with a disc-shaped electric motor mounted in the front section of the Q7 e-tron quattro's standard eight-speed automatic gearbox, developing 126bhp and 258lb ft. Together they provide a combined system output of 368bhp and 381lb ft – sufficient, according to Audi, to endow it with a 0-62mph time of 6.0sec and a 140mph top speed.
With an official consumption figure of 166.2mpg, the Q7 e-tron quattro possesses average CO2 emissions of just 50g/km. Energy for its electric motor is provided by a 17.3kWh lithium-ion battery mounted within the floor of the boot and consisting of 168 individual cells. Along with the combined diesel-electric range of 876 miles, Audi also claims an all-electric range of 34 miles.
A two-phase system allows charging at up to 7.2kW. Audi claims an overall charge time of up to two-and-a-half hours on a high-voltage system. To boost efficiency, the Q7 e-tron quattro's diesel-electric hybrid system also receives an integrated heat pump. It collects waste heat from the electric drive components and uses it to heat the cabin of the new Audi when required – a first on a production-based hybrid, according to Audi.
The new Audi Q7 will be available in two specifications, SE and S Line. SE-spec cars come with 19-inch alloy wheels, while S Line models get larger 20-inch units. The Q7 also uses the same optional virtual cockpit system as the Audi TT, which sees the traditional instrument cluster replaced by a 12.3-inch TFT screen.
Other equipment includes Audi's MMI infotainment system, heated front seats, cruise control, automatic lights and wipers, parking assistance, hill descent control, keyless go and Audi's drive select system. Prices start at £50,340 for the SE model with the 3.0-litre V6 TDI engine, with S Line models costing from £53,835.
Get the latest car news, reviews and galleries from Autocar direct to your inbox every week. Enter your email address below: