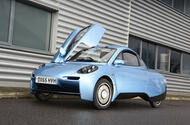 Zero-emission vehicle uses four in-wheel electric motors and promises 250mpg and a 300-mile range
British carmaker Riversimple has revealed a new hydrogen-powered car that is set to go into production later this year.
The two-seat model produces nothing but water from its tailpipe and is capable of an estimated 250mpg and a 300-mile range from just 1.5kg of hydrogen.
The Rasa uses an 8.5kW fuel-cell (equivalent to about 11bhp), which combines hydrogen with oxygen to form water and electricity. The electricity powers four motors that drive each of the car's wheels, with a combined output of about 443lb ft of torque.
Each of the car's electric motors works as a generator when the brakes are applied, and can recover as much as 70% of kinetic energy during heavy braking. Under normal applications, around 50% is recovered.
The whole drivetrain has just 18 moving parts and is capable of accelerating the car to 60mph in a respectable 10sec. Top speed is limited to 60mph, but Riversimple says the car can comfortably cruise at this speed for long periods.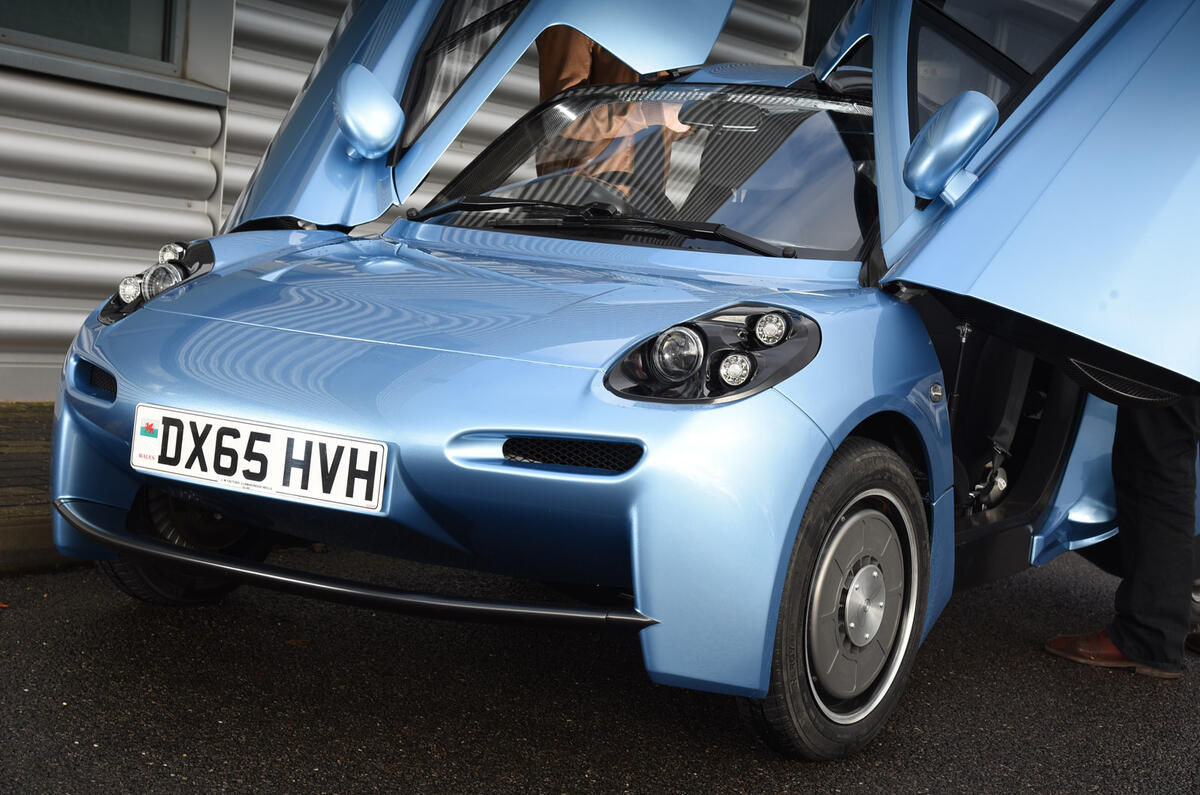 The Rasa weighs just 580kg thanks to its use of a carbon composite monocoque and aluminium subframes. Weight has been minimised in every avenue, with the monocoque weighing 39kg, the doors weighing 8kg and the fuel-cell itself weighing 19kg. Sustainably sourced carbon fibre reinforced plastic and glass fibre reinforced polymer body panels add minimal mass on top.
Riversimple founder, Hugo Spowers, says Colin Chapman and his philosophy for light weight Lotus sports cars served as an inspiration.
Spowers' background involves racing – his previous ventures include founding and running a business that designed and built racing cars – but environmental concerns spurred a move into creating sustainable cars. The Rasa has, therefore, been built with minimal resource usage in mind.
In total, the Rasa's well-to-wheel CO2 output (how much CO2 has been produced from the model's conception to the end of its useful life) equates to about 40g/km. But with rapidly improving drivetrains and refined production methods, Riversimple expects to cut that number in half in the coming years.
Autocar sampled the Rasa from the passenger seat. While our limited time in the car revealed little about its performance, the overall experience was akin to that of a small British sports car. With just two gears – forward and reverse – it's surprisingly simple to operate, and it pulled and sounded like a typical electric car.
It rode like something suited to track work – that's to say it was rather harsh over bumps and manhole covers – but Spowers confirmed that the car's suspension settings were still under development. He said the finished product would be much more forgiving.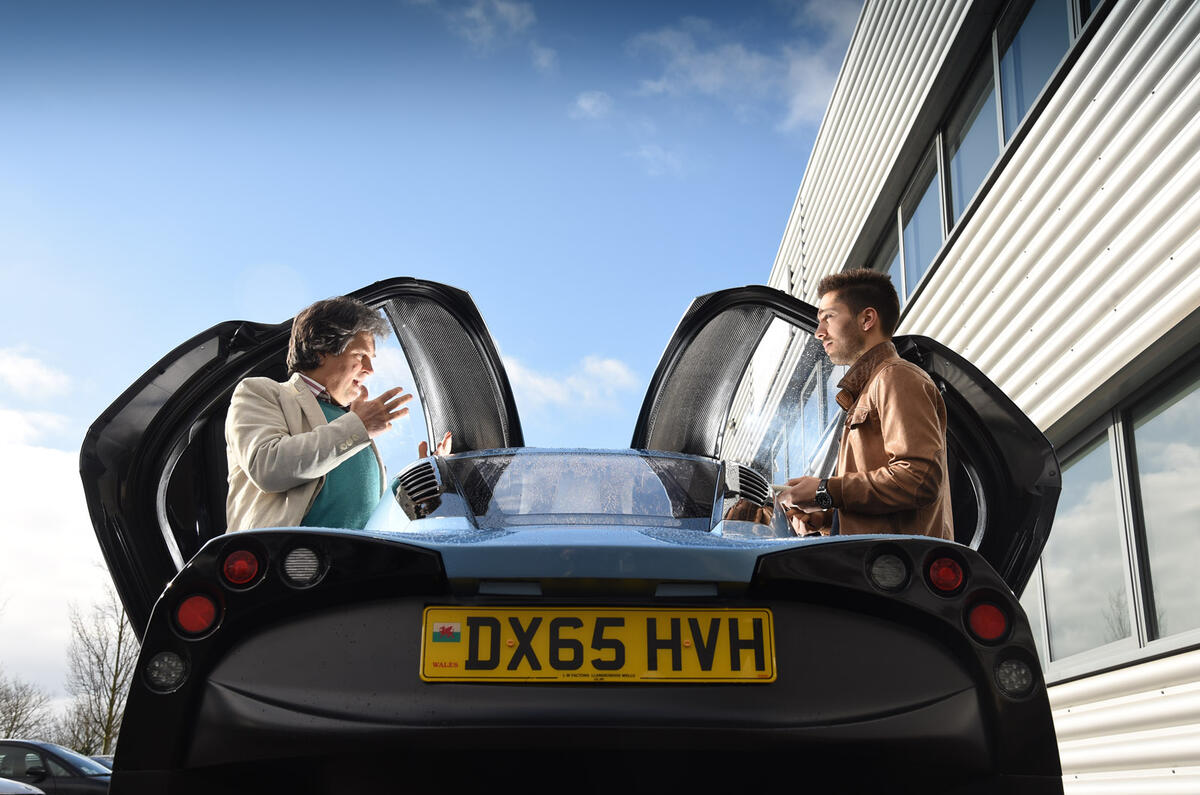 The cabin is a surprisingly pleasant place to be; although insulation from the outside world is thin, the low seats, alcantara wrapped steering wheel and clutter-free dash gives the interior a sports car feel – no doubt influenced by Spowers' motorsport background.
As interesting as the Rasa is, however, it's Rivesimple's business plan that really sets it apart from other alternatively powered vehicles.
Riversimple will produce a run of 20 trial Rasas to be used by individuals later this year, in what it calls a beta trial. It believes opening the development phase to people outside the business will help it increase the rate of improvement.
Riversimple will also open source all its findings and development, so other companies can then work to develop the technology. Spowers' thinking is that having thousands of eyes working on a piece of technology is far better than just a small team. He's confident Riversimple's place as development leader will ensure the company's survival, even if its technology is used elsewhere.
After the beta trial, a full production run of 3500 vehicles is planned for 2018. These cars will be sold under a contract where buyers rent the right to use the vehicle. Although costs are unconfirmed, Riversimple says prices will be reasonable, and will include fuel, insurance and maintenance costs.
"Rather than trying to make money from our customers in the first few years of ownership, our business plan means we make more money by giving the customer the most affordable service we can," explains Spowers. "If the car is cheap to build, efficient and reliable, we make more money, and the customer is happier. All parties are working towards a common goal."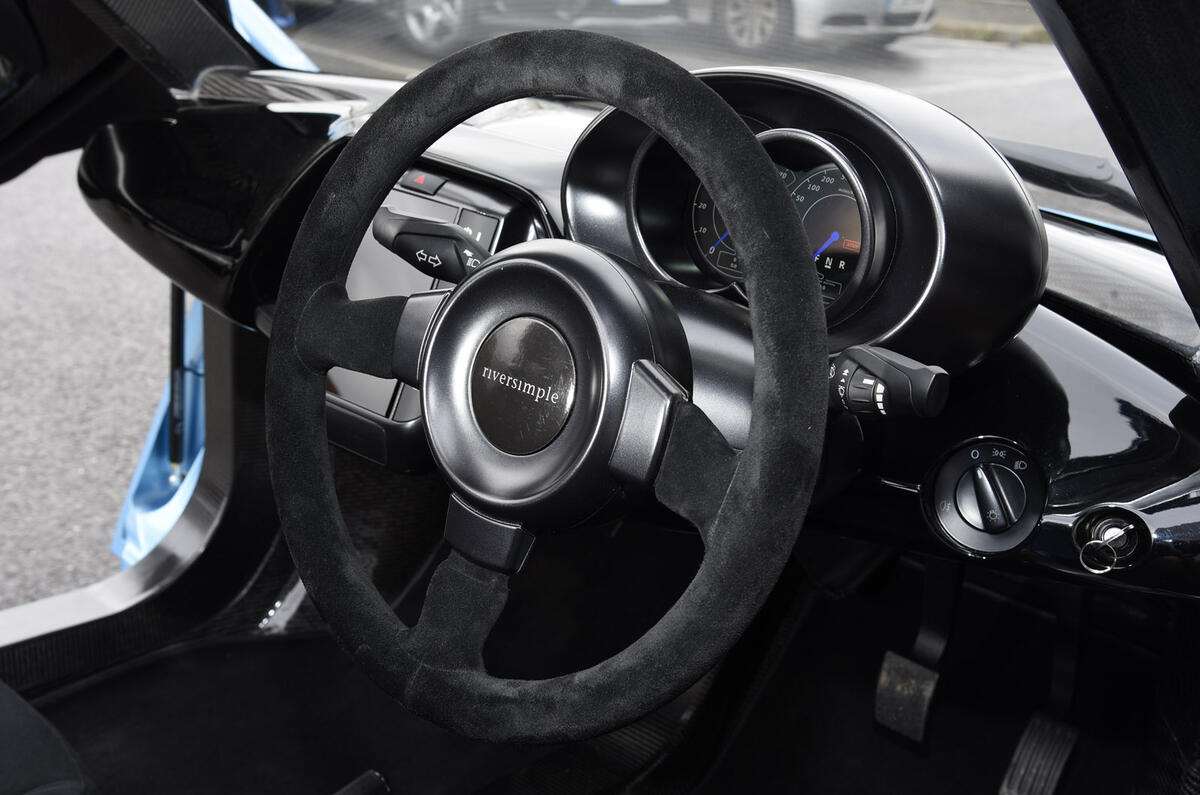 Spowers says this plan contrasts with that of many major car manufacturers, which want customers to buy more spare parts and to trade their cars in at regular intervals. Riversimple, on the other hand, wants its cars to last at least 15 years.
The first cars will be offered to individuals located in a few currently undisclosed UK cities, where hydrogen filling stations will be built. This plan ensures that a large enough amount of demand will be generated to justify the expense of building a station. It should then spur on the building of more infrastructure in other areas.
In the future, Riversimple wants to combine its rental scheme with car sharing, as it believes the concept will one day become a much more economically and environmentally sustainable source of private transport.
The firm, which is based in Llandrindod, Wales, has recently secured €2 million worth of funding from the EU. It was involved in Morgan's hydrogen LIFEcar project of 2008, and features a team of industry experts with backgrounds in Formula 1, aerospace and multinational manufacturers.